When you don't know about the best cantilever umbrellas, it will be difficult for you to sort through all your options. There are so many things you can learn in this segment about cantilever umbrellas that you can confidently select the best one for yourself. In this article, we will discuss the benefits of cantilever umbrellas and the characteristics of a good umbrella.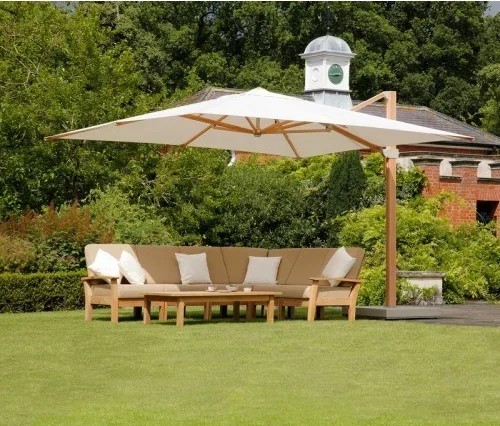 Cantilever umbrellas have many benefits
Cantilever umbrellas protect you from the sun's UV rays and the rain, as do traditional patio umbrellas. In addition, patio umbrellas differ from the rest in the way they are designed, and they also come with a number of benefits, such as:
Utilization of space in an efficient manner
It's easier to shade more space with a cantilever umbrella because the pole isn't in the way because it's off to the side. You can put it on your balcony, patio, or backyard, and it won't take up a lot of space on the ground. You can also put it near the edge of a pool or garden area, then adjust it for more comfort.
Aesthetically appealing
You can customize your outdoor space with cantilever umbrellas that come in a variety of shapes and colors.
Considerations when choosing a cantilever umbrella
Dimensions of the canopy
You should choose an umbrella of the right size for your needs. Cantilever umbrellas come in different sizes.
Look Into the Materials It is Built With
This is very important because it affects how long your cantilever umbrella lasts. People use canvas and polyester to make the canopy. Canvas tends to wear out quickly, and it is hard to clean and maintain. Conversely, polyester is very durable, easy to clean, and waterproof. It also protects against the sun very well, especially if it has a vinyl layer on top of it.
The most common materials for the frame are aluminum and steel. Steel poles and aluminum ribs are used in umbrellas. Steel is heavy, thus an all-steel frame might be difficult to carry about. To avoid rusting or corrosion, make sure the steel is coated or painted.
You may also purchase a wooden frame, which is extremely attractive, but they are not as robust as the other materials.
What About The Mechanics?
Crank and tilt, pulley, rotation, and push-up are all mechanisms for lifting a cantilever umbrella. Pushing the hub below the closed canopy, which raises the ribs and stretches the canopy wide, is required for the push-up mechanism.
The pulley mechanism needs you to pull a rope down to elevate the hub, which then lifts the ribs, allowing the canopy to extend out.
The crank system is the most popular, and it just needs you to open the umbrella using the handle on the pole. Tilting may be accomplished in a variety of ways, the most frequent of which is by pushing a button.
Another basic option is the rotation system. All you have to do is push a pedal, and the umbrella will begin to rotate upwards until you release it.
User-friendly
It's doubtful that you'll use an umbrella very often if you don't like how it works or find it difficult to move and set up. Make sure you pick an umbrella with a simple mechanism that you can modify to reach maximum comfort.