Why are my Monstera leaves burnt? This can be a common problem in the Monstera family. It is good to know what causes this and there are many solutions! The most common cause of burnt leaves on Monsteras is too much water or poor drainage. You may also get burnt leaves if you have been feeding your plant with acidic fertilizer that does not agree with its natural soil type.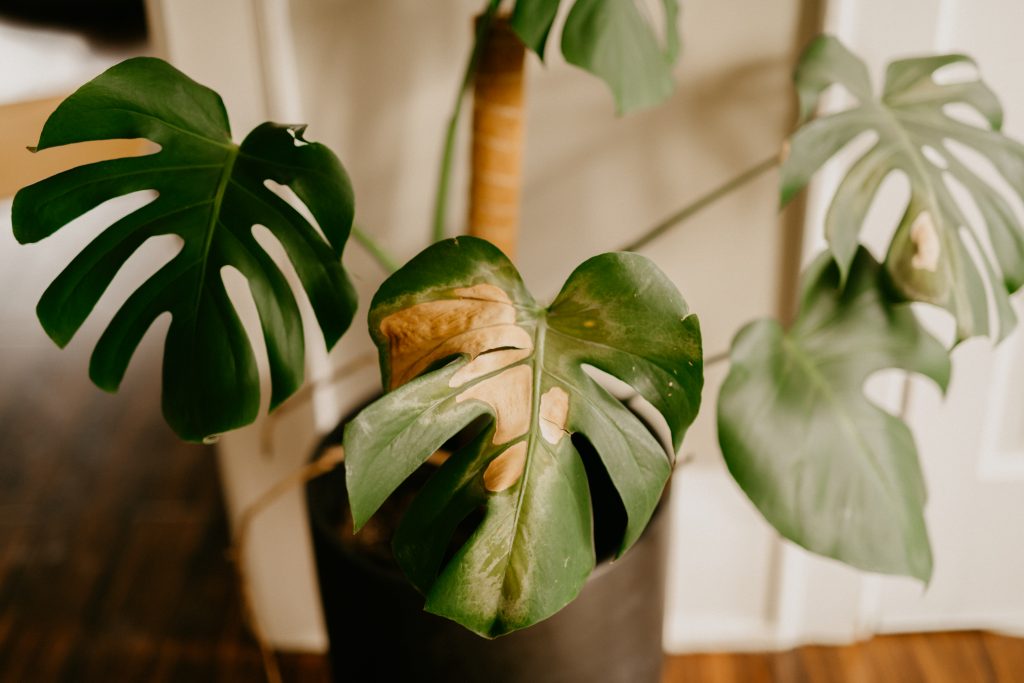 There are several ways to fix these problems, which we will discuss below. This blog post discusses why it's important for plants to receive their proper care and attention, including how to solve some of the most common problems faced by Monstera owners!
Common Causes to Monstera burnt leaves
Overwatering
Overwatering your plant can lead to burnt leaves. It is important that the soil dry out in between watering intervals! In order to make sure that your plant has the proper drainage, add a layer of gravel or potting mix at the bottom of the pot.
Underwatering
If you have been under-watering your plant, its leaves will start to dry out and turn brown. You may also notice that the soil is starting to harden or shrink. To fix this problem, water more often!
Feeding Plant with Wrong Fertilizer Type
If you feed your Monstera leaves with an acid fertilizer, it can lead to burnt leaves as well! In order to fix this problem, switch to a fertilizer with the correct pH.
Plant Not Receiving Proper Care
If your plant is not receiving proper care, it can lead to burnt leaves. To solve this problem, make sure you are watering and fertilizing at the right intervals! It may be helpful to have someone who has experience looking after plants for advice as well.
Poor drainage
If your plant's roots are not able to breathe because of poor drainage, it can lead to burning. Ensure there is proper spacing for water to drain from the pot and plants need a room at their base so they don't sit in a puddle of water. If you have been feeding your plant with an acidic fertilizer, it may be out of balance and cause burning!
Low Air Moisture
Low air moisture can cause leaves to wilt and eventually burn in certain situations. In order to solve this problem, make sure you are watering at the right intervals and give your plant enough light!
Insects
Plant eating insects like scales can cause leaves to burn by sucking the sap from your plant's leaves causing them to dry out and eventually crack which causes the plant to die.
Mites are also a common problem for Monstera plants and can cause leaves to turn brown or yellow, which may lead to burning on the edges of the leaf and along veins.
Fungus or Disease
If your Monstera plant has been infected with fungus or disease, you will notice brown lines on the leaves. In order to fix this problem, remove any affected parts of the plant and water more often! The best way to avoid these problems is by using a fungicide spray regularly as prevention.
Solutions for Monstera burnt leaves
The most common causes for burnt leaves on Monsteras are too much water or poor drainage. You may also get burnt leaves if you have been feeding your plant with acidic fertilizer that does not agree with its natural soil type. There are several ways to fix these problems, which we will discuss below.
Adjust your watering schedule to better suit your plant's needs. This could be as simple as switching to a timer so you ensure it gets enough water but not too much.
Add a drainage layer to the bottom of your pot. This will ensure that water does not stay at the bottom of your pot, which could cause overwatering and burnt leaves.
Replace fertilizer with one more suited for Monstera plants or change it up every few weeks so you can offer variety in nutrients from different sources.
Prune the brown parts of your Monstera's leaf and take it into account when watering them next time. The best way to ensure proper water levels is by using well-draining potting soil and watering your plant from the bottom.
Mix a solution of one tablespoon baking soda with four cups water to treat an over acid soil type or use a natural fertilizer that is not citrus-based.
Why you should remove damaged leaves
It's important to know how and when to remove damaged leaves as well. This is because the brown or burnt parts of your Monstera plant can cause other areas on the leaf to burn by blocking the sun, light, and air circulation around it.
Leaves that have been burned too long are more difficult for your plant to heal and will eventually start burning other leaves. If you notice that your Monstera's burnt leaf is growing in size, it may be time to remove it!
Removing spots from Monstera leaves
In order to fix burnt leaves on Monstera plants, you need to make sure it is not the result of an infection. If your plant has been infected with fungus or disease, remove any affected parts and water more often! The best way to avoid these problems is by using a fungicide spray regularly as prevention.
It's important for Monstera plants to have a good drainage layer in the bottom of their pot and well-draining soil. Do not overwater your plant, as this can cause burnt leaves! The best way to avoid these problems is by using a fungicide spray regularly as prevention.
If you are unsure if your Monstera's burnt leaf is from too much water or an infection, cut off a leaf from the bottom of the plant. If it is still burnt in a few days, you may need to replace your soil and do more research on how much light they should get!
If leaves are growing larger rather than healing themselves, this could be because there is something else wrong with your Monstera's leaf that we did not mention here.
Conclusion
A Monstera plant is a beautiful addition to any home with its wide leaves and large flowers. If you take care of these plants properly, they will provide many years of beauty!
Check Out Top Selling Monstera
HOYOFO Tropical Makeup Bags Set of 2 Canvas Monstera Cosmetic Bag Green Leaves Makeup…
Size: BM (Small) – 20*8.5*12 cm/ 7.9*3.3*4.7 inch; DM (Big) – 24*7*15 cm/ 9.4*2.8*5.9 inch
HIGH QUALITY: Made of durable cotton canvas with tropical green leaves printing, washable and can last for long time use
DIFFERENT SHAPES: Set of 2 makeup bags with different shapes with Big capacity to storage your daily makeup essential, meet all your storage needs
MULTIPURPOSE:Ideal carry on bag for organizing makeup,makeup brushes,travel toiletries,medicine and travel accessories, perfect for your needs at home and on the go
Costa Farms Monstera Swiss Cheese Plant, Live Indoor Plant, Easy to Grow Split Leaf…
STYLISH ELEGANCE: Monstera is a bold houseplant that adds a tropical feel to any space. Featuring iconic green leaves with holes, Monstera live plant dramatically improves home decor, adding a focal point to your any room in your home or office
BEAUTIFUL HOME DECOR: An air-purifying Monstera, is a home or office decorator's dream. The trendy plant transforms indoor rooms with a touch of greenery. Monstera is potted in a nursery pot with potting soil, ready to be enjoyed instantly after unboxing
UNIQUE GIFT: Surprise your loved ones with a live Monstera Deliciosa plant, ready to be gifted for any occasion, including birthday, anniversary, and housewarming. It's a refreshing alternative to flowers or typical gifts, creating a lasting memory that shows you care
HAPPY & HEALTHY PLANT: Your new live indoor plant arrives well-packed with care instructions. Keep your Monstera happy, healthy, and growing best by placing it in bright, indirect sunlight. Water with approximately 2-3 cups of water about once a week. Adjust as needed for your environment
48 Inch Moss Pole, Bendable Moss Pole for Plants Monstera, Tall Moss Poles for Climbing…
WHAT YOU GET–1 x 48 inches moss pole and 1 x 10 feet of jute rope. Tying the plant with jute twine will not cause harm and the 48-inch large and tall moss pole will take care of the plant growth for longer.
HIGH QUALITY MATERIAL: Soupiar moss poles are made of natural fiber material derived from coconut shells, ideal for growing plants to attach new air roots and help plants retain moisture and nutrients. The inner core of the bendable moss pole is made of solid aluminum bar, which is strong and rust-free and easy to adjust the shape.
EASY TO USE–Bend the moss pole into the shape you like: heart, arch, snake, spiral ….. Then insert the handle of the moss pole deeply into the soil, and finally just tie the climbing plant stems to the indoor potted plant pole with twine.
IDEAL FOR CLIMBING PLANTS – Soupiar moss poles for climbing plants provide support for all kinds of indoor and outdoor plants, especially suitable for monstera, climbing vine plants, money plants, creepers, Chlorophytum plant, ivy, philodendron, pothos, vanilla, chlorophyll plants, small leaf vines and other plants.
Gardenera Premium Monstera Potting Soil – Quick Drain Potting Soil for Growing and…
🌳 PREVENTS BROWN SPOTS, ROOT ROT, AND DROPPING LEAVES Created to provide well-draining soil using organic aged bark, coco coir, and perlite to maintain an optimal balance of water and air for your monsteras. ⭐ INGRIDIENTS: Peat moss, perlite, coco coir, biochar, worm castings, bark.
🌳 SUPPORTS INCREASED GROWTH AND STRONGER HOUSEPLANT HEALTH Specially formulated with nutrients including IBI-certified Biochar, which increases the retention of nitrogen, phosphorus, and other essential plant nutrients so your plant can grow bigger and stronger.
🌳 PROTECTS AGAINST OVER AND UNDER WATERING Developed by The Houseplant Resource Center, our soil mix provides the perfect balance of water retention and drainage so that you can take the guesswork out of watering your monstera.
🌳 CERTIFIED STERILE AND NON-TOXIC Each bag has been sterilized to protect your plant that can lurk in other soils. Enjoy a resealable bag for easy storage.
Last update on 2023-10-10 / Affiliate links / Images from Amazon Product Advertising API