Why are my Monstera leaves burnt? This can be a common problem in the Monstera family. It is good to know what causes this and there are many solutions! The most common cause of burnt leaves on Monsteras is too much water or poor drainage. You may also get burnt leaves if you have been feeding your plant with acidic fertilizer that does not agree with its natural soil type.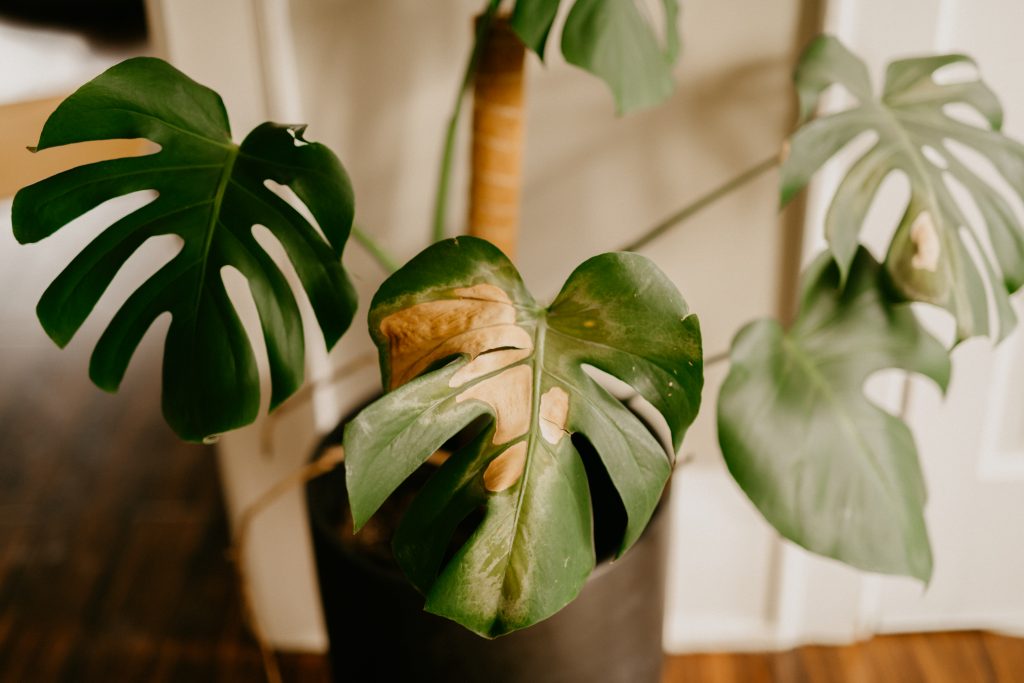 There are several ways to fix these problems, which we will discuss below. This blog post discusses why it's important for plants to receive their proper care and attention, including how to solve some of the most common problems faced by Monstera owners!
Common Causes to Monstera burnt leaves
Overwatering
Overwatering your plant can lead to burnt leaves. It is important that the soil dry out in between watering intervals! In order to make sure that your plant has the proper drainage, add a layer of gravel or potting mix at the bottom of the pot.
Underwatering
If you have been under-watering your plant, its leaves will start to dry out and turn brown. You may also notice that the soil is starting to harden or shrink. To fix this problem, water more often!
Feeding Plant with Wrong Fertilizer Type
If you feed your Monstera leaves with an acid fertilizer, it can lead to burnt leaves as well! In order to fix this problem, switch to a fertilizer with the correct pH.
Plant Not Receiving Proper Care
If your plant is not receiving proper care, it can lead to burnt leaves. To solve this problem, make sure you are watering and fertilizing at the right intervals! It may be helpful to have someone who has experience looking after plants for advice as well.
Poor drainage
If your plant's roots are not able to breathe because of poor drainage, it can lead to burning. Ensure there is proper spacing for water to drain from the pot and plants need a room at their base so they don't sit in a puddle of water. If you have been feeding your plant with an acidic fertilizer, it may be out of balance and cause burning!
Low Air Moisture
Low air moisture can cause leaves to wilt and eventually burn in certain situations. In order to solve this problem, make sure you are watering at the right intervals and give your plant enough light!
Insects
Plant eating insects like scales can cause leaves to burn by sucking the sap from your plant's leaves causing them to dry out and eventually crack which causes the plant to die.
Mites are also a common problem for Monstera plants and can cause leaves to turn brown or yellow, which may lead to burning on the edges of the leaf and along veins.
Fungus or Disease
If your Monstera plant has been infected with fungus or disease, you will notice brown lines on the leaves. In order to fix this problem, remove any affected parts of the plant and water more often! The best way to avoid these problems is by using a fungicide spray regularly as prevention.
Solutions for Monstera burnt leaves
The most common causes for burnt leaves on Monsteras are too much water or poor drainage. You may also get burnt leaves if you have been feeding your plant with acidic fertilizer that does not agree with its natural soil type. There are several ways to fix these problems, which we will discuss below.
Adjust your watering schedule to better suit your plant's needs. This could be as simple as switching to a timer so you ensure it gets enough water but not too much.
Add a drainage layer to the bottom of your pot. This will ensure that water does not stay at the bottom of your pot, which could cause overwatering and burnt leaves.
Replace fertilizer with one more suited for Monstera plants or change it up every few weeks so you can offer variety in nutrients from different sources.
Prune the brown parts of your Monstera's leaf and take it into account when watering them next time. The best way to ensure proper water levels is by using well-draining potting soil and watering your plant from the bottom.
Mix a solution of one tablespoon baking soda with four cups water to treat an over acid soil type or use a natural fertilizer that is not citrus-based.
Why you should remove damaged leaves
It's important to know how and when to remove damaged leaves as well. This is because the brown or burnt parts of your Monstera plant can cause other areas on the leaf to burn by blocking the sun, light, and air circulation around it.
Leaves that have been burned too long are more difficult for your plant to heal and will eventually start burning other leaves. If you notice that your Monstera's burnt leaf is growing in size, it may be time to remove it!
Removing spots from Monstera leaves
In order to fix burnt leaves on Monstera plants, you need to make sure it is not the result of an infection. If your plant has been infected with fungus or disease, remove any affected parts and water more often! The best way to avoid these problems is by using a fungicide spray regularly as prevention.
It's important for Monstera plants to have a good drainage layer in the bottom of their pot and well-draining soil. Do not overwater your plant, as this can cause burnt leaves! The best way to avoid these problems is by using a fungicide spray regularly as prevention.
If you are unsure if your Monstera's burnt leaf is from too much water or an infection, cut off a leaf from the bottom of the plant. If it is still burnt in a few days, you may need to replace your soil and do more research on how much light they should get!
If leaves are growing larger rather than healing themselves, this could be because there is something else wrong with your Monstera's leaf that we did not mention here.
Conclusion
A Monstera plant is a beautiful addition to any home with its wide leaves and large flowers. If you take care of these plants properly, they will provide many years of beauty!
Check Out Top Selling Monstera
California Tropicals Monstera Adansonii Real Live Indoor Houseplants – Big Low Light…
ATTRACTIVE PLANT: Our Monstera Adansonii is a beautiful tropical houseplant that grows big, with leaves that can reach up to 2 feet long! It's perfect for adding a lush, green touch to any room.
EASY TO GROW: Even if you're a beginner gardener, this Monstera Adansonii is easy to care for and loves to be in indirect light. It's an ideal choice for those looking for a low-maintenance houseplant.
REAL LIVE PLANTS: California Tropicals only offers real, live plants. Our Monstera Adansonii is freshly picked and comes with a 4″ pot, so you can enjoy its lush foliage for months.
AIR PURIFYING: The Monstera Adansonii adds beauty to any room and is also great for purifying the air! Studies show that it can help reduce indoor air pollution and is great for those with allergies.
Moss Pole 47.5 Inch, 4 Pack Moss Poles for Climbing Plants, Monstera Coir Totem Pole, 16…
[TRAIN PLANTS TO GROW UPWARD] Climbers and vines need extra support as they grow. Moss poles can provide sturdy vertical support for your plants and help train them to grow upright. It can help train plants to climb, even indoor plants can climb in the direction of the light as they would in nature. Coir totem poles are highly absorbent and help plants retain water and nutrients. It effectively prevents the aerial roots from drying out and allows the plant to grow more vigorously.
[PREMIUM ECO-FRIENDLY MATERIAL] Moss pole is made of pure natural coconut fiber without additives. The aerial roots of the plant can easily penetrate this sustainable organic material, which is completely safe for the plant and the environment. The plant moss poles are wear-resistant and reusable. The outside is tightly tied with jute rope, making the totem pole very strong for long term use. The natural texture of the moss pole blends well with the plants, adding jungle decor to your greenery.
[EXTENDABLE DESIGN, EASY TO USE] The moss sticks have sharpened stakes at the bottom that can be easily inserted into the soil and remain firm. The interior of the moss stick is PVC pipe rather than metal and will not rust. Each moss pole is 16 inches long, and you can use a coir totem pole individually or stack them together to suit your plants needs at different times. All 4 moss poles stack up to 47.5 inches long. No need to replace the moss stick thus prevent damage to potted plants.
[WIDE APPLICATION] Compared to plastic material, coconut fiber is more gentle to your plants, and it can provide a great grip for aerial roots. Moss pole is the ideal support for various indoor and outdoor climbing plants, creepers, creeping plants, especially suitable for monstera, money plants, climbing vines, ivy, pothos, vanilla, philodendron, chlorophyll plants, small leaf vines, and other houseplants. Great for balcony and gardens and the easiest tools for those who enjoy gardening.
Costa Farms Monstera Plant, Little Swiss Cheese Live Indoor Plant, Trending Tropicals,…
The Trending Tropicals Collection: Elevate your home decor with exceptional new varieties representing some of the hottest houseplant varieties on social media.Product Dimensions 6 x 10 x 15 inches
Height at shipping is approximately 12-Inches tall, measured from the bottom of the pot to the top of the plant. Ships in a premium, 6-inch décor mixed material planter
Place in a spot that receives bright light, 5 or more hours of indirect sunlight. Direct sunlight may burn the plant.
Water when the top 2 inches of the soil are dry (about once every 7 to 10 days) and be sure all excess water drains away. Do not let the plant sit in water or overly soggy soil.
KAVU Rope Sling – Compact Lightweight Crossbody Bag – Monstera Garden
High Quality Material – Made from strong, lightweight 100% 11 oz. 600D polyester,. Dimensions 20 x 11 x 3 inches.
Pack for Any Adventure! – The Rope Sling is built to make your day run smoother. Two main pockets pack clothes or water bottles, with an internal zip pocket and two front pockets for cell phones, wallets, or other essentials. Throw it on before class or gear up for some off-the-grid exploring – with your KAVU Rope Bag, Fun Has No Season!
What Makes Our Ropes So Dope? – Our rope straps are sturdy, but not bulky – soft, but not flimsy. They're that perfect combo of durability and comfort! We also use some of the strongest, lightest buckle clips out there, so you can really depend on them to last.
Designed for Fun – KAVU's formula for working and living is simple — build fun into everything you do! We create Adventure Tested, True Outdoor Wear so you can express yourself and spread your good-time attitude.
HOYOFO Tropical Makeup Bags Set of 2 Canvas Monstera Cosmetic Bag Green Leaves Makeup…
Size: BM (Small) – 20*8.5*12 cm/ 7.9*3.3*4.7 inch; DM (Big) – 24*7*15 cm/ 9.4*2.8*5.9 inch
HIGH QUALITY: Made of durable cotton canvas with tropical green leaves printing, washable and can last for long time use
DIFFERENT SHAPES: Set of 2 makeup bags with different shapes with Big capacity to storage your daily makeup essential, meet all your storage needs
MULTIPURPOSE:Ideal carry on bag for organizing makeup,makeup brushes,travel toiletries,medicine and travel accessories, perfect for your needs at home and on the go
Last update on 2023-04-24 / Affiliate links / Images from Amazon Product Advertising API