Philodendron Bob Cee is a unique philodendron because of its color. It has a greenish-silver hue that is very distinct and beautiful. This plant is easy to grow and does well in most indoor conditions. It is perfect for people who are new to gardening or those who want a low-maintenance plant.
With long, thin leaves, the Bob Cee plant is a rare tropical species of Philodendron. These plants enjoy climbing on moss poles and may get very big. The Bob Cee is a rare and highly sought-after form of Philodendron, making it challenging to find. Large, serrated leaves on the plants, which get more beautiful the bigger they become, are their most adored feature.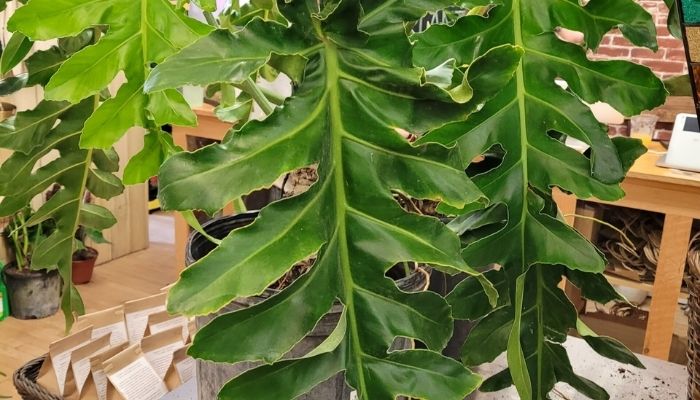 Overview of the Philodendron Bob Cee
The family Araceae includes the Philodendron Bob Cee. This remarkable plant can scale a pole or fence and grows quickly. It possesses areal roots that it employs in its natural habitat to cling to trees. The Bob Cee comes from South America's tropical and subtropical climates, just like other philodendrons do.
It is stunning to see a huge Bob Cee with saw-toothed leaves. If the conditions are good, this plant may grow fairly huge, and its leaves can get as long as four feet. The leaf features attractive rounded saw-tooth edges and veins that range in hue from pale green to cream.
The Bob Cee plant is poisonous to both people and animals if consumed, as are all philodendrons. Crystals that grow on the surface of the leaves can also irritate the skin. Keep your plant out of small children's, pets', and animals' reach. Additionally, gloves should be worn if working with any variety of philodendrons.
Watering
Bob Cee is a Philodendron that loves water. In fact, it's one of the few plants that can actually drown if you don't give it enough water. So how do you water a Philodendron Bob Cee?
The best way to water a Philodendron Bob Cee is to wait until the top inch or so of soil feels dry before watering it. Then, give it a good soaking until water starts dripping out of the pot's drainage hole. Be sure to avoid getting the leaves wet, as this can lead to fungal problems.
You may also want to consider using a moisture meter to help you determine when your plant needs water. Just insert the meter into the soil and wait for a few seconds. The meter will either read "wet," "dry," or "saturated. If your plant is dry, give it a good soak. If it's saturated, wait until the reading goes down to about 1/4 inch before giving it another dose of water.
Temperature
The temperature of the philodendron bob cee is best when it is kept between 55° and 80°F. If the temperature gets too cold, the leaves may turn black and fall off. If the temperature gets too hot, the leaves may turn brown and fall off.
Humidity
As tropical plants, philodendrons demand humidity levels of between 50 and 80 percent. You may do this by spraying your plants every day, grouping them near together, leaving your plant in the bathroom, or buying a humidifier.
Lighting
In order to grow and thrive, Philodendron Bob Cee needs plenty of sunlight. In the wild, they can be found growing near the tops of trees in warm, humid environments. Indoor growers should place their plants in a south-facing window with direct sun exposure. If there is no natural light available, a grow light can be used.
While Philodendron Bob Cee does need some direct sun exposure, it's important not to overdo it. Prolonged exposure to high levels of UV radiation can cause leaf burn. If the leaves start to turn brown or crispy, it's a sign that the plant is getting too much sun. Move the plant to a shadier spot or reduce the amount of time it spends in direct sunlight.
Soil Conditions
The Philodendron Bob Cee grows best in soil that is moist and well-drained. The pH of the soil should be between 6.0 and 7.5 for the best growth results. The soil should also be rich in organic matter to provide the plant with essential nutrients.
Fertilizing The Philodendron Bob Cee
Philodendron Bob Cee is a beautiful plant that can be a great addition to any home. This plant is easy to care for and does not require a lot of maintenance, but there are a few things you can do to help it grow and thrive. One of the most important things you can do for your Philodendron Bob Cee is to fertilize it regularly.
Buy Liquid Fertilizer For Philodendron Bob Cee
Bestseller No. 1
EZ-gro 20 20 20 Fertilizer – All Purpose Liquid Plant Food – Lawn, Flower, Herb,…
ALL-PURPOSE INDUSTRY STANDARD: A balanced fertilizer for a diverse range of plants. From the smallest seed to the largest tree, EZ-gro 20-20-20 fertilizer supplies the nutrients needed for your…
CONCENTRATED LIQUID FERTILIZER: Our fertilizer supplies high-grade nutrients directly to the root. A powerful cocktail with all the nutritional content your plants need. For live plants in your farm…
ENHANCED MICRONUTRIENT PACKAGE: Infused with a micronutrient package which delivers optimal nutrition for a variety of plants. Balanced NPK ratio, high percentage of ammonium and urea nitrogen….
Last update on 2023-01-05 / Affiliate links / Images from Amazon Product Advertising API
Liquid fertilizer is best, but you can also use a slow-release fertilizer to make sure it gets enough nutrition. This plant is also very sensitive to over or under-fertilization. Another thing you should do to help your Philodendron Bob Cee thrive is to keep the soil evenly moist.
Pruning
Pruning the philodendron bob cee is a great way to keep the plant healthy and looking its best. Pruning helps remove dead leaves and branches and encourages new growth. Pruning also helps keep the plant from becoming too tall or wide. The best time to prune a philodendron bob cee is after it has finished blooming. Remove any dead or damaged branches using sharp scissors. Cut back the stems by about one-third, making sure to leave at least two healthy leaves on each stem.
Conclusion
In conclusion, the philodendron bob cee is a low-maintenance plant that can be easily cared for with a little bit of water and sunlight. It is a great plant for beginners and makes a beautiful addition to any home or office.
See More Best Selling Philodendron Plants
Bestseller No. 1
Bestseller No. 2
Black Gold Philo, 4 inch Philodendron melanochrysum, Very Rare houseplant
[EXPERTLY PACKAGED] We package and wrap each plant individually with the utmost care. We are very accommodating and receptive. Feel free to message for any issues or requests.
[HEALTY GUARANTEE] House plants are always healthy and gorgeous and it won't be hard to keep them that way. We have 3 main types of plants in our store, following these tips will ensure their and your…
[GIFTABLE] All plants are individually wrapped and is a great gift for any plant lover
Bestseller No. 3
Philo Silver Stripe, 4 inch Variegated Philodendron Hederaceum Cordatum Heartleaf
[EXPERTLY PACKAGED] We package and wrap each plant individually with the utmost care. We are very accomodating and receptive. Feel free to message for any issues or requests.
[HEALTY GUARANTEE] House plants are always healthy and gorgeous and it won't be hard to keep them that way. We have 3 main types of plants in our store, following these tips will ensure their and your…
[GIFTABLE] All plants are individually wrapped and a great gift for any plant lover
Bestseller No. 4
Costa Farms Live Indoor Philodendron Birkin Plant, Live Houseplant in Clay Décor Pot,…
LIVE INDOOR PLANT: Bring home a beautiful Philodendron Birkin for a tropical feel. These houseplants are lush and green, ready to liven up any space with real plants. Let this popular indoor live…
BEAUTIFUL HOME DECOR: At 14-inches tall, a gorgeous Philodendron Birkin is a vibrant addition to your home. This real plant comes carefully potted, ready to be enjoyed and admired instantly after…
GREAT VALENTINE'S DAY GIFT: Imagine the surprised joy and appreciation a loved one or significant other will experience when they unbox a beautiful indoor plant for Valentine's Day. Express your love…
Bestseller No. 5
Last update on 2023-01-05 / Affiliate links / Images from Amazon Product Advertising API